Exclusive
Teresa And Caroline Feud Deepening: Manzo Desperate To Push Giudice Off The Show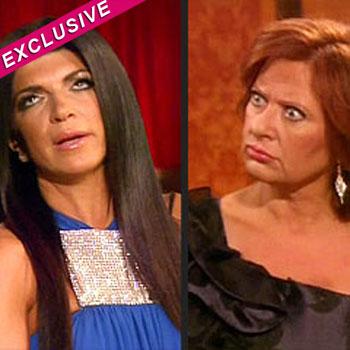 The feud between Teresa Giudice and Caroline Manzo is deepening by the day, with the Real Housewives at each other's throats and the latter trying to push her former friend off the show, RadarOnline.com is exclusively reporting.
As previously reported, Caroline has voiced her desire to leave the show, with a source telling Reality Weekly, "She thought being on a reality show would be fun, but it's just been drama, lies, deception and scandal."
Article continues below advertisement
But, a Bravo source tells RadarOnline.com that Caroline has no actual plans to leave the hit show, rather, she is scheming to push her nemesis, Teresa Giudice, off the air for good.
"Caroline is sick of the drama that Teresa brings," the source says. "But more than that, she's jealous because she knows she is the bigger star. It's Teresa who appeared on Celebrity Apprentice, it's Teresa who gets all the magazine covers and it's Teresa that is perceived as the star of the show. Caroline hates it and would love nothing more than to get rid of Teresa… for good!
"She's been trying to get the other ladies to all gang up on Teresa and make some kind of ultimatum of "Teresa or us" to Bravo producers, she believes that could work, but I think she is seriously underestimating the star power of Teresa.
"Bravo knows that Teresa is the one that viewers tune in to watch — either love her or hate her, people love to watch her and her drama and there's no way they are going to lose her. Caroline, they could care less about. She doesn't really deliver anything and they wouldn't really care either way if she left or stayed.
Article continues below advertisement
"Put it this way, Caroline is really picking the wrong fight if she thinks she can push Teresa off the show. It just isn't happening."
As RadarOnline.com previously reported, Teresa blew her top Thursday after fellow housewife, Jacqueline Laurita "attacked" her ten-year-old daughter on her Bravo Blog.
"She is furious that Jacqueline has dragged Gia into this nasty fight and is especially pissed that Jacqueline's Twitter followers are viciously attacking her little girl," a source close to Teresa told RadarOnline.com. "Teresa doesn't care if people attack her all they want but they cross the line when they attack her daughter. She's only 10 years old! She doesn't want her daughter to be thrown into this mix."
After careful consideration, the Bravo source says, Teresa is sure she can see the hand of Caroline in the recent attack. "Teresa is convinced Caroline was behind Jacqueline's blog. She knows how sneaky and underhanded Caroline can be and how she loves to stir up trouble.
"Teresa is going to get to the bottom of this either way, and she will not take it laying down, you can guarantee you are going to see some major fallout over this whole blog mess."