You WILL Go To The Prom! Pupils Make Their Special Ed Classmates Dreams Come True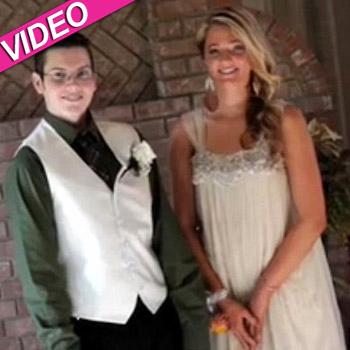 By Debbie Emery - RadarOnline.com Reporter
Going to the prom is the pinnacle of every teenager's high school experience, but for these seniors it was beyond their wildest dreams.
Wheelchair bound because of a spinal-cord tumor, Ben Bunker of Foothill High School in Henderson, Nevada couldn't get down on one knee to ask classmate Meagan Baker to be his date, but in fact it was the pretty blonde who made the first move, reported the Las Vegas Review Journal.
Article continues below advertisement
The invite was part of a special request that a group of students made to the school's staff last month saying they wanted to ask all special needs seniors to the May 12 prom in one-on-one dates.
"Every student knows our kids. We don't push them in a broom closet in a corner at the end of the hallway," said Rae McAnlis, Foothill's special education facilitator, explaining that first the school wanted to get permission from parents so that it wasn't construed as a sick joke. "One boy, an outgoing senior with fetal alcohol syndrome, gets high fives in the halls and is known as the Mayor of Foothill."
Instead of being segregated like in some schools, all the classes are combined so that the "general ed kids learn tolerance," and the special ed ones "feel a little more normal."
Ben had been too embarrassed to ask a girl out for the big dance after countless surgeries have left him barely able to walk, but when Meagan asked him he replied in style, writing a letter on a poster and taping seven candy bars to it so their names replaced some of the words.
Article continues below advertisement
"I'm no 'Airhead,' so of course I'll say YES! It will be an 'Almond Joy' to go with you," it said, in part.
Other exuberant seniors such as Cassidy Cooper, a sophomore who will never advance beyond third grade, shared their prom dates with their school crushes and the girls they'd already picked to take with them.
"I think I'm more excited than Cassidy will be," said her mom, Nora Petersen, who picked up a pretty pink dress from Dillard's with her daughter. "Cassidy is not a girly girl, so this is kind of fun."
When it came to the night of a lifetime, Meagan picked up Ben and took him to the Lake Las Vegas' Westin Hotel for the dance, after which the matching pair, in a cream vest and champagne colored dress, went for a romantic dinner at the Bellagio hotel and meandered through the casino's indoor garden.
Come Monday morning, she was even waiting at the street corner to walk with him to school.
Watch video of Ben and his prom date below: