Exclusive
Jon Gosselin DJs Middle School Prom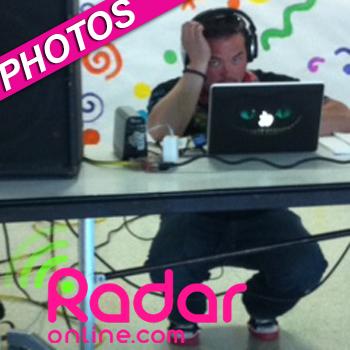 We don't want to say his career has gone to Pottsville....but Saturday night Jon Gosselin was the DJ for a middle school prom in Pottsville, PA, RadarOnline.com is exclusively reporting.
The father-of-eight and a former Jon & Kate Plus 8 star has a day job, working in construction, but last night Gosselin proved he also has a talent for spinning records.
The 35-year-old was spotted at D.H.H Langel Middle School where he and his current squeeze – Liz Jannetta – kept the party going for the 13 and 14-year-olds.
Article continues below advertisement
One of the kids exclusively tells RadarOnline.com that he gives JD Jon eight out of ten for his skills.
"He played Nicki Minaj, Chris Brown and Rihanna and he took requests. He was nice and I had a good time."
Our source even said he would go to another party with Jon as the DJ.
Kate Gosselin's former spouse didn't just please the 100 teenage partygoers – a near impossible feat – he also charmed their moms.
One mother was there when Jon and Liz arrived at 5:30 pm, an hour before the prom started. She says: "When they walked in, one of the moms went up to him and asked: 'Are you Jon Gosselin?' And he said: 'Yes I am'. The next thing you know everyone started taking pictures. He was polite and smiling."
As we previously reported, Jon's new girlfriend has three kids of her own. "People might think it's crazy to add her three kids to the mix, but it has been great," he said.
Article continues below advertisement
"Liz is a part time DJ and she got the gig for the prom," a source tells us exclusively. "Jon is very proud of her and was happy to be there to help her out."
And later, Jon himself tweeted about the event. "here with gf Liz. She is Djing for Prom. Company is HiTech. Just saying," Jon wrote to his followers.
The theme of last night's prom was One Sweet Night – a farewell to the middle school years – and by all accounts Jon seemed to help the evening live up to its name.