Father Of Autistic Boy Claims Son Was Bullied Because He Was The 'Perfect Victim'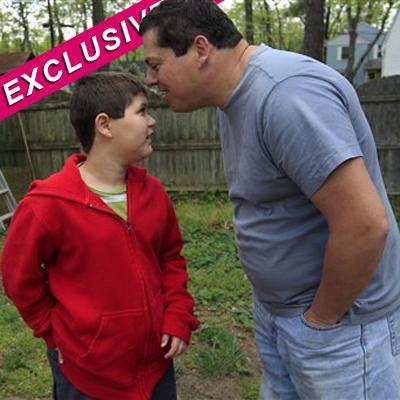 The father of the young autistic boy who is at the heart of a school board abuse scandal, believes the teacher and her aide, who were secretly caught on tape bullying the 10-year-old, targeted the special need child because he would never be able to reveal his torment, RadarOnline.com can exclusively reveal.
"He was the perfect victim and I believe this created a culture of cruelty in the classroom," Stuart Chaifetz told RadarOnline.com in an exclusive interview. "All the children in class were special needs and had communication problems, these kids couldn't tell anyone what was happening."
Article continues below advertisement
Kelly Altenburg and her aide, Jodi Sgouros, were caught in the act however, because as RadarOnline.com previously reported, Chaifetz suspected his 10-year-old autistic son, Akian Chaifetz, was being picked on at the Horace Mann Elementary School in Cherry Hill, New Jersey, so he sent him to class one day last February with a voice recorder hidden in his pocket.
The resulting six-and-a-half hour tape revealed the teacher and her aide teasing the boy, chastising him, having an inappropriate discussion within his earshot, and calling him a "b*****d."
"You would never tell a group of normal 10-year-old boys that you were under the influence of alcohol. But they did it here because they knew they could get away with it," Chaifetz told RadarOnline.com.
"There were five boys in the class," he explained. "One parent called me last night who just found out about what happened and he is very upset and concerned about what may have happened to his son."
Article continues below advertisement
Altenburg is seeking legal advice since Chaifetz publically ousted her on YouTube, and the determined dad said he will counter act if she tries to sue him.
"If she wants to come after me I will respond vigorously," Chaifetz told RadarOnline.com in an exclusive interview. "I said all along that I was not interested in filing a lawsuit, I will not sue the school. I was not going to sue the teacher or the aide, but if they are saying they are hiring a lawyer to send a message to me, then I will send it right back."
Along with getting Altenburg fired and having her banned from teaching for life, the determined dad wants to identify a mystery voice heard on the tape who caused the most distress to his son.
"The one that hurt him the most and made him cry - I don't know who she is. She is an unknown woman making fun of Akian, and the teacher and the aide then laugh at him," he revealed.
While there is no evidence of physical abuse to the boy, Chaifetz said the emotional affect on the special needs child was extreme.
Article continues below advertisement
"It was destroying him, I was losing my son. The way they treated my son was as if he didn't exist. He was a robot and some kind of animal that didn't exist.
"They turned him into a victim. If anyone thinks my son is not scarred, they don't understand that autistic children are just like everyone else," he explained.
Sgouros was fired for her role in the abuse, and although the school released a statement claiming both women were no longer working in the district, Chaifetz ascertains that Altenburg was merely transferred to nearby Cherry High School West.