Reese Witherspoon Attends Dad's Conservatorship Hearing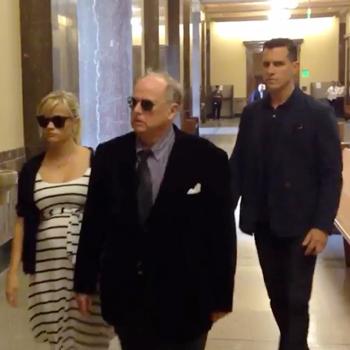 A visibly pregnant Reese Witherspoon and her parents appeared in a Tennessee courtroom Friday for an emergency hearing to determine if her father should be placed in a conservatorship.
Davidson County Seventh Circuit Court Judge Randy Kenned closed the proceedings and sealed the court record at the request of the Witherspoon family, reported The Tennessean.
As RadarOnline.com previously reported, last week Reese's mother, Betty Witherspoon, filed a lawsuit saying that her husband, John D. Witherspoon, had married another woman even though they are still married!
Article continues below advertisement
In her legal docs, Betty Witherspoon stated that she and John had lived separately for more than a decade and that John suffers from early-onset dementia and has problems with alcohol, hoarding and overspending. She is seeking to have his new marriage annulled.
The Witherspoon family attorney explained Reese's appearance in the courtroom to the judge.
"This is a daughter who wants to help her parents, particularly her father," Andra Hedrick said of the actress who was accompanied by her husband, Jim Toth.