How Reese Witherspoon Amps Up Her Hikes For A No-Gym Workout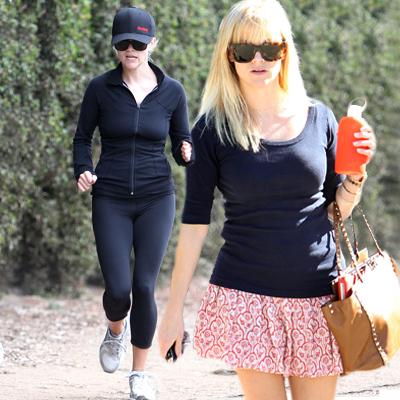 Article continues below advertisement
Trainer Michael George, who worked with the A-list star to get her red carpet ready 3-4 times a week for a year, dished all the details on her workout regimen, and tricks to show us mere mortals how we can do it too.
Finding a balance of cardio, strength training and healthy eating is the key, explained George, who emphasizes that you don't need a pricey gym membership to achieve these simple goals.
To improve her overall fitness, drop a little body fat, sculpt lean muscle, and add a little fun and fabulous views into her workout, the dynamic duo went on hikes and did strength work with light dumbbells on the trail to add some extra kick.
For a scenic cool down that is bound to add some Zen to any workout, they dropped into downward dog and did yoga poses such as sun salutations and warrior to get at one with nature.
Article continues below advertisement