All The Better To See Myself In! Kim Kardashian Goes For A Spin In Scott Disick's Chrome Car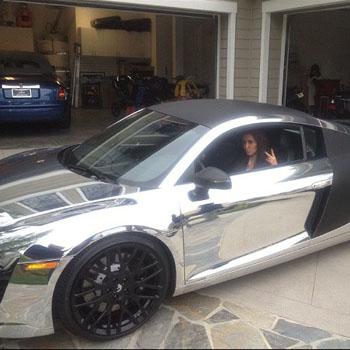 There is nothing Kim Kardashian loves more than the reflection of her own image!
So she must have loved the opportunity of getting in more face time behind the wheel of Scott Disick's ridiculously over-the-top chrome sports car, which has a mirrored body.
The reality star tweeted several pictures of herself in the flashy Audi R8 Thursday where she could admire her smoldering looks at every turn.
Article continues below advertisement
"Who needs a mirror when I'm driving @scottdisick's car!?!" Kim posted on her Twitter page about her brother-in-law's vanity motor.
The Audi R8 retails for around $200,000 and it would then have cost Kourtney Kardashian's baby daddy between $50,000 and $60,000 to add the chrome wrap.
The new restaurateur has been seen driving a fleet of luxury vehicles in the past including a Rolls Royce Phantom, a grey Lamborghini Murcielago, a black Range Rover and a $245,000 Rolls Royce Ghost.