Kelly Preston: Life Is Better With Kids And Being Sober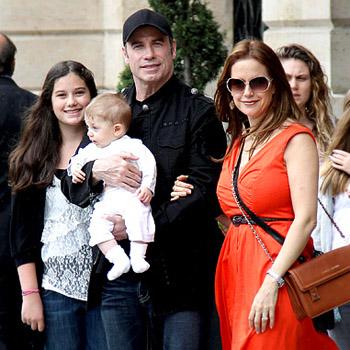 As Kelly Preston weathers the storm of husband John Travolta's ongoing scandal involving lawsuits from two masseurs, an interview with the actress aired Thursday revealing how her focus is squarely on family.
"Our kids are the center of our universe," Kelly, 49, said on Lifetime's The Conversation With Amanda de Cadenet, of her children, toddler Benjamin Hunter Kaleo and 12-year-old daughter Ella. (Her son Jett tragically died January 2, 2009 from a seizure at the family's Grand Bahama island vacation home.)
Article continues below advertisement
John Travolta Sex Accuser 'John Doe' Says He Has Proof Of Affair
Kelly said she's matured in motherhood.
"It's different in that I'm so much wiser -- I know myself so much more now," the Old Dogs beauty told de Cadenet. "I'm so different, too."
Kelly, who was once engaged to Hollywood bad boy Charlie Sheen, said part of the clarity has stemmed out of complete sobriety.
"Now I don't drink anymore. I don't smoke anymore. I don't do drugs anymore," she said. "All of those come with an 'anymore.' I used to do everything and a lot of everything. With drinking, I just decided that I wasn't always at my best. There were times where I drank too much, for sure."