Real HOT Housewife! Brandi Glanville Flaunts Her Flawless Bikini Body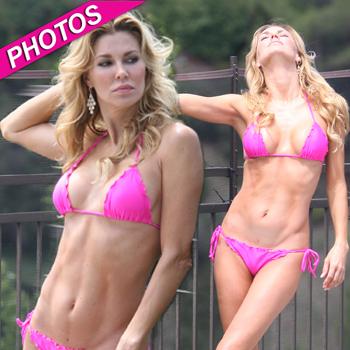 She may be on the verge of turning 40 years old, but Brandi Glanville still looks better than most teenagers in a skimpy bikini!
The Real Housewives of Beverly Hills star showed off her virtually fat-free figure in a skimpy pink bikini while frolicking around her Los Angeles home recently – and RadarOnline.com has the photos.
Showing off her taut tummy and superior stems in the frilly, Luli Fama Swimwear string bikini, the mother of Eddie Cibrian's children left little to the imagination.
Article continues below advertisement
As RadarOnline.com exclusively reported, Glanville has been partying hard of late and is turning into Beverly Hills' new mean girl.
"Brandi has been extremely chummy with Lisa Vanderpump this year," a source close to the situation told RadarOnline.com. "She just doesn't seem to be in a good place right now, and she has been definitely hitting the bottle a lot harder this year during filming, which is cause for concern. Brandi becomes much more aggressive when she drinks and she is turning into the new mean girl on the show. It's hard to tell if it's the alcohol that is the cause for the drastic mood changes, if it's just Brandi trying to be provocative, or if she feels pressure to act a certain way during filming."