Titanic Artifacts Up For Auction On The 100 Year Anniversary Of Its Sinking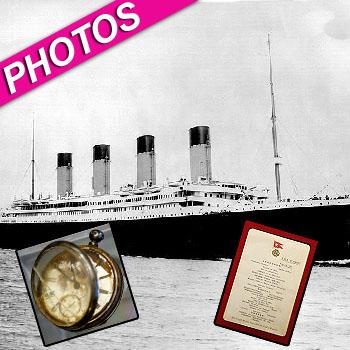 By Debbie Emery - RadarOnline.com Reporter
As part of the 100 year anniversary of the sinking of the Titanic, thousands of artifacts from the infamous ship have been retrieved from the depths of the Atlantic Ocean and are heading to the auction block.
The fascinating collection, which has been valued at $189 million, ranges from a set of keys used by Titanic crewman Samuel Hemming to unlock the door where the lifeboats were held, to lanterns, to a rusted pocket watch found in the belongings of a third class passenger named William Henry Allen.
Article continues below advertisement
A menu given to first class passengers on the day of the mammoth liner's sinking in 1912 offers lunch options of cockie leekie soup, grilled mutton chops, backed jacket potatoes and custard pudding, or a full buffet.
The 5,500-piece collection is currently on display at the Intrepid Sea, Air & Space Museum in New York City, and the winning bid will be announced on April 11, exactly a century after the RMS Titanic set sail from Southampton to New York on its doomed maiden voyage that killed 1,514 people.
Some of the historical artifacts, including a shoe brush, straight razor and a pipe, have been linked to bridge officer William Murdoch, who was a central figure in the disaster.
James Cameron's Oscar-winning movie portrayed him as a scoundrel who accepted bribes, killed two people trying to get on lifeboats and shot himself in desperation as the ship sinks. However, other historical accounts suggest that Murdoch tried in vain to keep the doomed ship from colliding with an iceberg and acted selflessly to get passengers on lifeboats.
Article continues below advertisement
The Murdoch artifacts were found in 2000, but just recently linked to the former officer thanks to the initials "W.M." embossed on a toiletry kit, reported the Associated Press.
The items "bring you face to face with things that belonged to a man so integral to the story," said Alexandra Klingelhofer, Premier's vice president of collections. "He did what an officer should do. He followed orders and got people into the lifeboats, and I think that tells you something about the man himself."
As RadarOnline.com previously reported, other centennial celebrations have included the release of ghostly images that were captured at the Woods Hole Oceanographic Institution (WHOI) in Massachusetts by William Lange using a blown-up sonar survey map of the site to create a meticulously stitched-together mosaic that has taken months to construct.
This imagery, the result of an ambitious multi-million-dollar expedition undertaken in August to September 2010, was captured by three state-of-the-art robotic vehicles that flew at various altitudes above the abyssal plain in long, preprogrammed swaths.