James Cameron Makes Record-Breaking Dive To The Earth's Deepest Point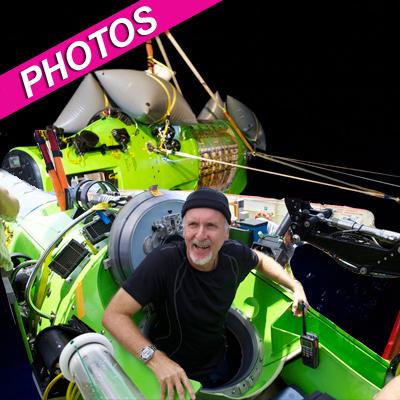 By Debbie Emery - RadarOnline.com Reporter
Award-winning director James Cameron can now add a new accolade to his impressive resume after reaching the deepest point in the earth, and RadarOnline.com has photos of his fabulous journey.
The Titanic creator swapped his director's chair for a specially created submarine to make the daring descent seven miles down the Mariana Trench, which about 200 miles south-west of the Pacific island of Guam.
Article continues below advertisement
Cameron successfully surfaced in the Pacific Ocean on Monday after a "faster-than-expected 70-minute ascent," reported NationalGeographic.com.
Strapped into the 12-ton, lime green sub called Deepsea Challenger, the Avatar director's amazing adventure made him the first person to reach the 6.8-mile-deep undersea valley solo, after Swiss engineer Jacques Piccard and US navy captain Don Walsh made a 20-minute trip to the bottom of the trench in 1960, but failed to see much because their sub kicked up so much sand.
"Jim came up in what must have been the best weather conditions we've seen," said expedition member and NASA astrobiologist Kevin Hand, who described the ascent as "perfect."
One of the biggest risks of the deep dive is extreme water pressures, and Cameron has admitted that it was a concern. "It is in the back of your mind," he said after a 5.1 mile deep practice run near Papua New Guinea earlier this month.
Article continues below advertisement
Despite the risk that the sub would explode if there was a leak, he said: "When you are actually on the dive you have to trust the engineering was done right."
During his time at the alien-like bottom of the ocean, Cameron collected samples and video with the sub's high-tech tools, which include a sediment sampler, a robotic claw, and a "slurp gun" for sucking up small sea creatures.
According to the Guardian.co.uk, the Oscar winner has been an oceanography enthusiast since he was a young boy and has completed 72 deep-sea submersible dives, 32 of which of were to the wreckage of the Titanic.