Famous Titanic Sketch Fetches $16,000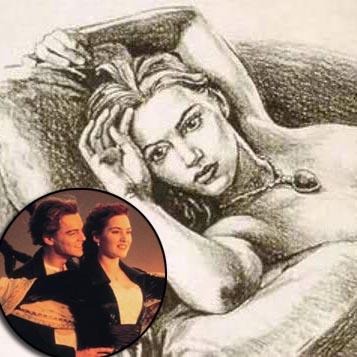 It was one of the most sensual scenes in Titanic -- Leonardo DiCaprio's character Jack sketching a naked portrait of Kate Winslet's Rose in the 1997 blockbuster film.
Now, that drawing has been auctioned off for a reported $16,000.
The famous picture shows Kate's character, Rose, seductively lying on a couch wearing nothing but the iconic blue diamond necklace.
In the film, DiCaprio's character, Jack, was the artist, but in real life, it was actually Oscar winning director James Cameron who sketched the image.
Article continues below advertisement
The sketch was sold to the highest bidder at Premiere Props' memorabilia auction over the weekend.
A spokesperson for the firm said: "This is a wonderful piece of memorabilia (from) one the biggest grossing films of all time."
BTW: The Oscar winning Winslet can currently be seen in HBO's epic mini-series Mildred Pierce.
RELATED STORIES:
Millionaire Matchmaker Talks Eva, Jen, Tiger & More!