Millionaire Matchmaker Talks Eva, Jen, Tiger & More!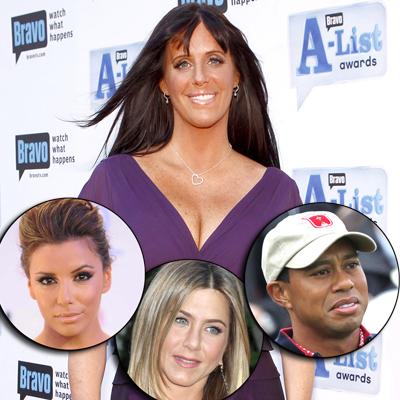 Patti Stanger, the Millionaire Matchmaker of Bravo fame, gave her candid thoughts on a group of celebs whose love life drama is routinely splashed on the pages of tabloids and blogs.
Stanger, who runs the The Millionaire's Club (a matchmaking service for well-to-do men) didn't hold anything back in her interview Tuesday with our friends at The Huffington Post, as stars like Eva Longoria, Jennifer Aniston and Tiger Woods all found their way into her cross-hairs.
Article continues below advertisement
Stanger said that Jennifer Aniston's in for more years of serial dating, as once you've had the best, it's hard to go back to the rest.
"I feel like Jennifer Aniston's gonna have the hardest time of all because Brad Pitt is so high on the list that it's really hard to meet the bar there," Stanger said. "I feel bad for her. She just said recently, 'I'd give up my career for love'... and I agree with it."
Stanger said not to expect Tiger Woods to have seen the light in the wake of his public disgraces, as "he will cheat no matter who he's with -- same with Jesse James."
Millionaire Matchmaker airs Tuesdays at 9/8c on Bravo.