Too Much Botox? Taylor Armstrong's Face Looks Frozen As She Films Real Housewives Of Beverly Hills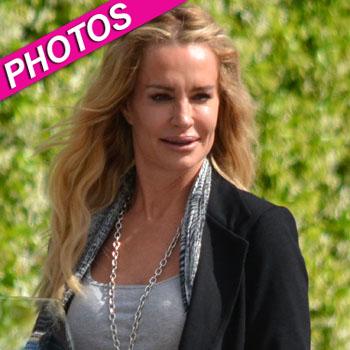 Taylor Armstrong looks like she has had one injection too many of celebrity favorite Botox.
The Real Housewives of Beverly Hills star was filming scenes for the hit Bravo reality show in West Hollywood yesterday when she showed off the effects of the purified toxin.
Instead of giving her the desired look of appearing more youthful, it just made her look like so many others that have fallen victim of going overboard with the beauty treatment.
Article continues below advertisement
Her face looked frozen and she looked like she couldn't change expression because of the "cat" lookz.
Taylor has admitted to getting Botox and fillers but maintains that she hasn't had any surgery.
The Real Housewives of Beverly Hills cast have recently started filming season three of the hit Bravo reality show.
"This year the Housewives are still fuming about all their old slights, barbs and insults and they're not about to let anything go in front of the cameras this time around," the source says.