Exclusive
The Real Reason Ryan O'Neal Abruptly Canceled His Interview On The TODAY Show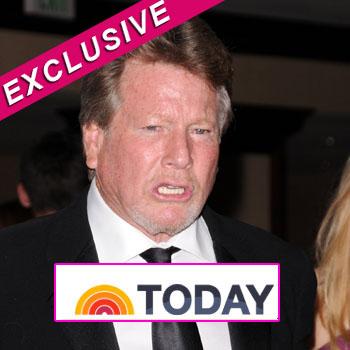 By Jen Heger - RadarOnline.com Assistant Managing Editor
Ryan O'Neal was scheduled to appear on TODAY Monday to promote his new memoir, Both of Us, My Life With Farrah, but he abruptly bolted from the set when producers told him that he was going to be asked about two of his children's extreme displeasure with the book, RadarOnline.com is exclusively reporting.
As previously reported, O'Neal showed up at 30 Rock In New York for the exclusive interview, but canceled at the last minute, saying he didn't feel well. TODAY's Matt Lauer made the announcement of O'Neal's cancelation, saying "... we are sad to say Mr. O'Neal showed up here this morning ...he was not feeling well. He has since gone back to his hotel, and we are told he is canceling all of his appearances for today, and we hope he is alright, and we hope to see him tomorrow morning, here on TODAY."
Article continues below advertisement
Prior to O'Neal arriving at 30 Rock, RadarOnline.com exclusively reported Monday that two of Ryan's children, Redmond and Tatum, are saying the memoir is not an honest account of their tumultuous relationship with the Love Story actor, and just promotes what they describe as "Ryan's self-serving narcissistic tendencies."
TODAY producers told Ryan that he was going to be asked for his reaction to Tatum and Redmond's feelings about the book. "Ryan had already completed hair and make-up and he was very upset when the producers told him about the subject matter. All of a sudden, he just said, 'I'm not feeling well, and I'm leaving.' Ryan didn't appear to be ill, and he bolted," a source close to the situation tells RadarOnline.com. "The producers were stunned and left scrambling because this happened shortly before he was scheduled to go on the air. His segment had been promoted throughout the morning leading up to the interview. Even though Ryan had a meltdown, producers want and hope he will come back on, especially because he has already appeared on ABC's Nightline."
Among the O'Neal children's beefs, Redmond is outraged that his father is attempting to blame him for his 2008 drug arrest.
In the book, Ryan writes, "Then, in September the police raid my house in Malibu early one morning as part of a court-mandated check on Redmond, who is on parole. Farrah is back home and sleeping upstairs when they descend upon us. They ransack the place, determined to unearth something, and they do. I had found a packet of crystal meth in Redmond's room the night before, so I took it from him and hid it in my shoe under my bed, thinking I'd dispose of it the next morning. The police came before I had a chance. The police find Redmond's stash. We are both booked and prosecuted. (Two months later, to protect Redmond, I would plead guilty to possession of crystal meth and be sentenced to attend outpatient drug management sessions. I had claimed ownership of the meth thinking the court would go lighter on Redmond. In retrospect, it didn't help him and only further sullied my reputation.)"
Article continues below advertisement
Redmond, the only child Ryan had with the late Farrah Fawcett is currently enrolled in a court-ordered rehab after a heroin possession arrest last year. He is scheduled to complete it in October.
"Let's be very clear about something, yes, there were drugs that were Redmond's that cops found, but the drugs found in Ryan's room were absolutely 100% his, and not Redmond's. Period," a source previously told RadarOnline.com. "For Ryan to say that those drugs were Redmond's and not his is just wrong. Redmond just wishes his father would never publicly talk about him because he absolutely shuns the spotlight, and he had hoped that Ryan wouldn't have written the book and discussed him so much. Redmond is an intensely private person like his mother Farrah was, and he is really trying to do the best he can right now in the rehab facility he
is in."
Meanwhile, Ryan's daughter, Tatum, who was recently released from rehab after a cocaine relapse last year, is just as perplexed about her father's memoir, says the source. After Farrah's funeral, Ryan admitted he hit on his own daughter after not recognizing her, a story Tatum confirmed at the time.
But in his book, Ryan says, "In the days and weeks following Farrah's death, one magazine suggested the unthinkable: that I actually had come on to Tatum. It was an innocent private joke between the two of us. Ever since she was a little girl, Tatum and I would play this game pretending we'd just met. It was silly and sweet. So at the funeral I greeted her with my line from our little act to let her know how much I loved her and that I still remembered, despite the difficulties between us. I wanted to try to make her smile, if only for a moment. I considered trying to set the record straight myself, but I didn't think anyone would believe me."
Article continues below advertisement
However, Tatum's recollection of that awkward encounter is very different. "Tatum has told friends that her father didn't recognize her at Farrah's funeral. He saw her and didn't know it was Tatum because she was wearing sunglasses, he was absolutely hitting on her, not realizing it was his daughter. It was beyond creepy and disgusting, but not surprising for Tatum, sadly," the insider says.
O'Neal's memoir, Both of Us, My Life With Farrah goes on sale on Tuesday, May 1.