Exclusive
Michael Lohan Defends Lindsay: 'Who The Hell Is Rosie O'Donnell To Judge Anyone?'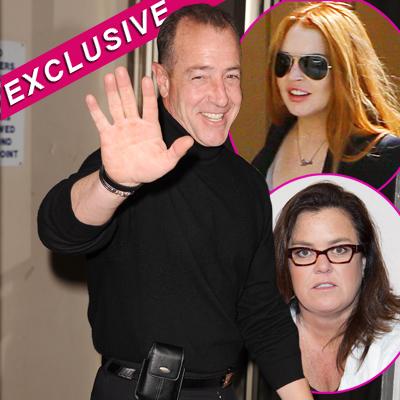 Article continues below advertisement
"Who the hell is Rosie O'Donnell to judge anyone, especially Lindsay who has far more talent than Rosie ever had?" the father of the 25-year-old legally challenged starlet asked.
"Lindsay's talent isn't limited to being a comedian or getting notoriety for adopting and raising a bunch of kids," Michael, the father of four, said in a dig at Rosie's four adopted children.
Always the defender of his daughter, Michael admitted Lindsay does have problems but blamed her youth.
"Sure, she has her pitfalls, but she is 25, and how old is Rosie? Please, and she wants to judge Lindsay!"
During her appearance on Today, Rosie was adamant that Lindsay was not the right person to actually play the late star.
"You're out of your mind! You're a crackhead!" she said to guest Danny Deutch when he defended Lindsay. "The last thing she did good she was sixteen." Rosie then added, "I don't think she's right for the role, and I don't think she's capable at this point to portray that character."
Article continues below advertisement
As RadarOnline.com previously reported, the biopic about Elizabeth Taylor is set to begin filming in June in Los Angeles, and Michael assures us that Rosie's tirade will not matter to the production.
"Rosie's opinion will NOT affect Lindsay's role as Elizabeth Taylor, so why don't we just see how well Lindsay DOES. Maybe then, Rosie will come out and rescind what she has stated.
"People in general love an underdog, especially in Hollywood; I would think Rosie would have been more supportive, SAD!"
As for how Lindsay is doing, Michael said she's finally on the right track.
"I am happy to say that Lindsay is doing really well. My family and I are very proud, supportive and confident that Lindsay is on her way to a comeback. And although people still seem to target her, she gets through things and forges forth. SNL and Glee were only the beginning."
RELATED STORIES:
Rosie O'Donnell Slams Casting Of Lindsay Lohan As Liz Taylor