Illinois Mega Millions Winners Emerge To Claim $218M Prize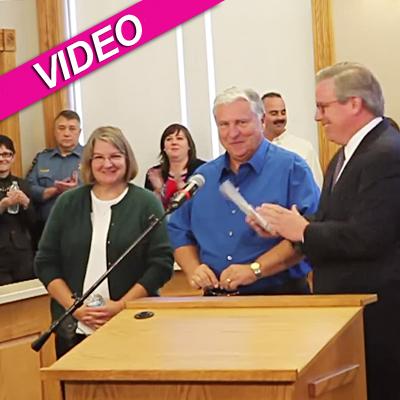 Red Bud, Illinois resident Merle Butler stepped forward Wednesday to claim his third of the record $656 million jackpot in the March 30 Mega Millions lottery drawing.
Butler, 65, and his wife Patricia, 62, came forward on Wednesday -- as mandated by Illinois lottery policy -- to take ownership of their share of the windfall and RadarOnline.com has video of the press conference held to claim their stake of $218.6 million, or $111 million in a lump sum after taxes are deducted.
Article continues below advertisement
The couple said they informed less than five people of their bonanza to avoid the spotlight and have been consulting with a financial advisor in the weeks since their win.
"I figured the quieter I keep it, the better we are," the 65-year-old Vietnam veteran said in a news conference at Red Bud's village hall. He joked his wife "giggled for about four hours" after learning they'd be in a new tax bracket thanks to the $1 purchase.