Mega Millions Lottery Winners From Maryland Are Teachers, Claim From McDonald's Worker Was Scam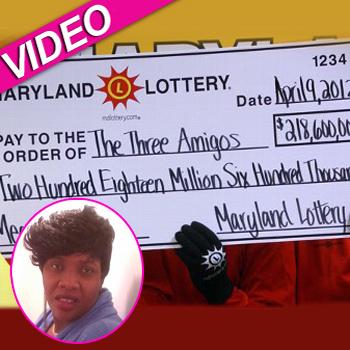 Liar, liar, pants on fire.
So much for Mirlande Wilson's claim that she won the Maryland Mega Millions, but just couldn't seem to find the ticket. Turns out, the McDonald's worker lied. (No big shock there.)
On Tuesday, Maryland Lottery officials announced the real winners -- two public school teachers and a school administrator, who pooled their money to purchase 60 tickets in three locations as a pool. (The winning ticket came from a 7-Eleven store in Milford Mill outside Baltimore.)
Article continues below advertisement
The three stepped forward Monday to claim their winnings, but all have chosen to remain anonymous.
Although their identities are being kept secret, lottery officials held a news conference Tuesday and showed off a giant check for $218,600,000 made out only to 'The Three Amigos'.
We know the winners are a woman in her 20s, a man in his 40s, and a woman in her 50s.
One winner is a special education teacher, one is an elementary school teacher and the third is a school administrator.
Lottery officials said they do not work in the same school, but declined to say which district they work for.
All three worked second jobs outside of school to make ends meet, but said they plan to continue working despite winning the giant jackpot.
Each will have about $35 million (after taxes) wired into their bank account within the next 10 days.
81 Year Old Woman Wins $336M Powerball Lottery
Their plans include backpacking in Europe, a tour of Italy's wine country and paying for a daughter's college education.
Article continues below advertisement
All three also planned to buy new homes and invest, officials said.
"If it can't be you, these people are precisely the people you would want to see win," Maryland Lottery director Stephen Martino said.
Laid-Off Receptionist Wins $4 Million Two Days After Losing Her Job
The winning Maryland ticket is one of three nationally that split the $656 million jackpot, the biggest in Mega Millions history. The other winners in the March 30 drawing were picked in Kansas and Illinois. Kansas' winner claimed a share of the jackpot Friday, but also decided to remain anonymous. No one has yet to step forward in Illinois.
Martino said the winners were amused by rumors of other winners, most notably Mirlande Wilson, who claimed she had the winning ticket outside of a pool she participated in with her co-workers.
"They were humored by it," Martino said.