Laid-Off Receptionist Wins $4 Million Two Days After Losing Her Job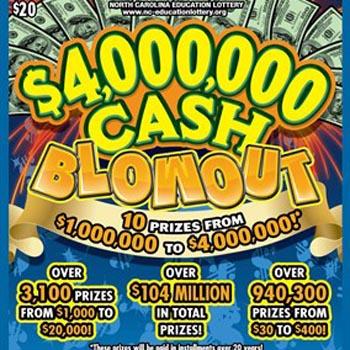 By Debbie Emery - Radar Reporter
A woman who thought she had hit rock-bottom when she lost her job was unexpectedly plucked from the abyss thanks to winning lottery numbers.
Camelia McClain, 39, of Raleigh, North Carolina, bagged the state's top prize of $4 million in the Cash Blowout lottery game from two $20 tickets that she bought two days after being laid off from her job as a receptionist.
The single mother of three said she had bought tickets before, but had decided to "press my luck," when she was told she was no longer needed at the job she had held for 22 years, reported ABCNews.com.
Article continues below advertisement
McClain saved her purchase for when she was back home having dinner with her children, where the whole family got a big surprise!
"I scratched the first ticket and didn't get anything," she said. When she scratched the second ticket, she couldn't believe her eyes.
"I had everyone look at that one ticket to look at what it said," she said.
Instead of getting the $4 million winnings in bulk, the sensible mom decided to claim the prize in annuity payments of $200,000 over a 20 year period. After taxes were withheld, she received her first check for $136,006 on Friday, the lottery organization said.
Rupert Murdoch's Company To Pay 36 Victims, Including Jude Law, In Phone Hacking Scandal
Sold! Elizabeth Taylor Jewelry Auction Fetches A Record-$115 Million