Maryland McDonald's Mega Millions Mystery: Self-Proclaimed Winner 'Cannot Show' Ticket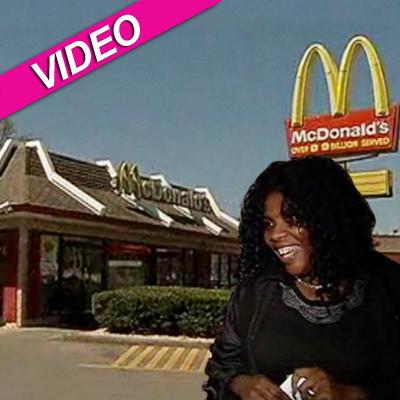 In a story hotter than the franchise's coffee, the mystery continues over a Maryland McDonald's worker who claims she won a third of Friday's Mega Millions grand prize -- $218 million in installments, or a lump sum of $105 million -- as she refused to show the ticket to a reporter Monday.
As we previously reported, Mirlande Wilson infuriated 15 of her McDonald's co-workers, who claimed she's trying to hoard the super-size serving of cash with tickets they all pitched in for. Wilson says she purchased the winning ticket in a separate batch, apart from her colleagues at the Golden Arches.
Article continues below advertisement
"I'm so shocked, I don't know what's going on," Wilson, a single mother-of-seven, told a reporter from NBC's Washington D.C. affiliate Monday from her Baltimore home, when asked about her huge windfall.
The reporter asked Wilson, "Where is the winning ticket? Is it here?" to which she responded, "I cannot show you."
Wilson said McDonald's co-workers crying foul "have the copies" of the tickets purchased as a group, which would back up her story over the winners being bought in a separate batch.
Watch the video on RadarOnline.com
Authorities with the state's lottery commission have confirmed the winner was bought at a 7-Eleven store in Milford Mill, Maryland, but said no one has come forward to cash it in yet, meaning the scuttlebutt over Wilson is meaningless until she steps forward to redeem her riches.
The two other prize-winning tickets were sold in Illinois and Kansas.
We'll keep you updated on this story right here on RadarOnline.com.