Exclusive
Khloe Kardashian Worried About Kim Kardashian's New Romance With Kanye West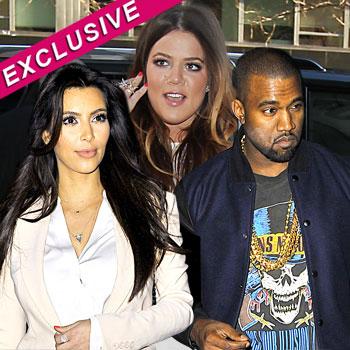 Article continues below advertisement
Despite reports that say Kim and Kanye started dating just two weeks ago, sources tell RadarOnline.com that Humphries claims that it has been on/again off/again between his estranged wife and the Grammy award winning hip hop star for much longer.
"Khloe just wishes that Kim wouldn't get involved with anyone for at least a year," a source close to the family tells RadarOnline.com. "Kim isn't even divorced yet and Khloe is extremely worried that Kris is going to try and attempt to use her new relationship as ammunition to score a bigger settlement. Khloe doesn't want her sister to get hurt again and she is extremely concerned about cheating allegations that have been made against Kanye in the past. Kim is extremely vulnerable, and the last thing she needs is to have her heart broken."
As RadarOnline.com previously reported, Humphries wants to know if Kim spent any money on West while they were married. Even though California is a no-fault divorce state if a spouse spends money on a lover while married the other person is legally entitled to recover those funds.
"Kris absolutely wants to know if Kim spent money on Kanye while he was married to her. If Kim took Kanye out to dinner, bought him any gifts, etc., Kris wants to know how much she spent, if anything at all. Under the law in California, Kris is legally entitled to that money and he deserves it, if it can be proven," an insider told RadarOnline.com.