Exclusive
Kris Humphries To Kanye West: 'You'll Need a Lot Of Patience With Kim Kardashian'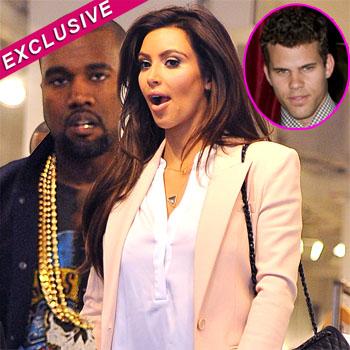 By Jen Heger - RadarOnline.com Assistant Managing Editor
Kim Kardashian's soon-to-be-ex-hubby, Kris Humphries, has some words of advice for the reality star's new boyfriend, Kanye West. Humphries is telling his friends that the rapper is going to need a lot of patience and luck in his new relationship with Kim, RadarOnline.com is exclusively reporting.
As we previously reported, Kim Kardashian was snapped slinking out of Kanye West's NYC apartment last Thursday morning wearing the same outfit she was wearing on her date with the hip hop star on Wednesday.
Article continues below advertisement
Despite reports that say Kim and Kanye started dating just two weeks ago, our sources tell us that Humphries says that it has been on again-off again between his estranged wife and the Grammy award winning singer for much longer.
"Kris knows for a fact that this dalliance between Kim and Kanye has been going on for at least the last two years. Kim kept in touch with Kanye after she married Kris and promised him that she would cut off communication with him, but she never did. Kris is suspicious of the timing of Kim deciding to go public with the relationship because the new season of Keeping Up with the Kardashians is premiering in May, and Kanye has released a new album," an insider tells us.
"Kris knows that Kanye NEVER would have recorded those lyrics about Kim without her permission, period. Kris wonders if Kanye is going to drink the 'Kardashian Kool Aid' as he calls it, because if you aren't a family member and don't fall in line with what Kris Jenner dictates, you are persona non grata.
"When Kris found out about Kim going public with Kanye, he told his friends he wanted to tell West, 'good luck dude, you are going to need it.' Kris knows that while he was with Kim, he was completely faithful, and he has serious doubts that she could say the same," the insider adds.
Article continues below advertisement
"They were both cheating," Kanye's ex Amber Rose exclusively told Star magazine. She said the pair hooked up while they were both in relationships with A-listers – Kim with NFL star Reggie Bush and Kanye with Amber!
Humphries is a fan of Kanye's music, despite the fact that he was dissed by the bad boy rapper in his new single, Theraflu. "One of Kris' favorite songs of Kanye's is his hit single, Golddigger. Kris especially likes the chorus of the song, "Now I ain't sayin' she a gold digger/When I'm in Need/But she ain't messin' with no broke ni**as." Kris is having a lot of fun listening to that song, and he thinks that Kanye and Kim truly do deserve each other," the source says.