Actress Ali MacGraw Appeals To Senator To Keep Horses Out Of Dog Food Cans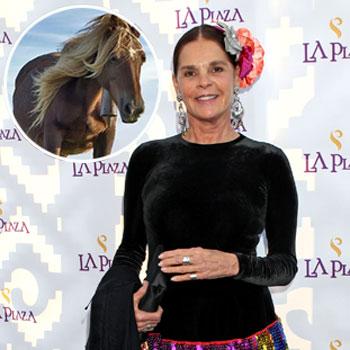 By Debbie Emery - Radar Reporter
Esteemed seventies actress Ali MacGraw is actively professing her love of horses by appealing to her local senator to protect former racehorses from ending their days in a dog food can.
The Love Story star wrote a letter to Senator Tom Udall urging him to throw his weight behind the American Horse Slaughter Prevention Act of 2011, which is now before Congress and would prohibit trucking horses across U.S. borders hundreds of miles into Canada or Mexico for slaughter, RadarOnline.com has learned.
Article continues below advertisement
"It would outlaw not only horse slaughter in the U.S. but also the transport of horses for slaughter elsewhere. It would effectively end the use of U.S. horses for food," wrote the animal rights activist in her letter to Washington D.C.
"Please, Tom, will you sign on to this bill right away, vigorously support it, and persuade others in positions of power to do the same? Time is of the essence. This extremely important bill cannot be allowed to fall through the cracks."
Earlier in her letter, 70-year-old MacGraw explained: "The previous ban on domestic horse slaughter, which is no longer in effect, was inadequate. It simply forced sensitive American horses, including thousands of casually discarded racehorses, to endure being trucked thousands of miles in all kinds of weather, fearful and thirsty, to the Mexican and Canadian borders, only to be slaughtered in those countries."
Article continues below advertisement
The Democratic senator from New Mexico has already been pushing for uniform federal standards to make the horse racing industry safer following a New York Times investigation exposing the high number of accidents involving both horses and jockeys over the past year.
"The sport of horse racing which, at its best, showcases the majestic beauty of this animal and the athleticism of jockeys, has reached an alarming level of corruption and exploitation," Udall said in a statement last week, reported the Huffington Post.
According to a New York Times report, 24 horses die each week at racetracks across America and five of the six tracks with the highest rate of incidents per 1,000 starts last year were in New Mexico.
As RadarOnline.com previously reported, it is not just real-life race horses who are at risk. The HBO racing drama Luck was cancelled last month after the deaths of three horses on the set sparked an outcry amidst accusations that the network was "murdering horses."
Article continues below advertisement
This is far from the first time MacGraw has gone out of her way to aid animals in need. In July 2006, she filmed a public service announcement for People for the Ethical Treatment of Animals (PETA), urging residents to take their pets with them in the event of wildfires.
She also wrote the forward for the book Pawprints of Katrina about the Best Friends Animal Sanctuary, and has been honored with the Humane Education Award by Animal Protection of New Mexico for speaking out about animal issues.