' Teen Bride' Courtney Stodden Takes The Plunge For PETA!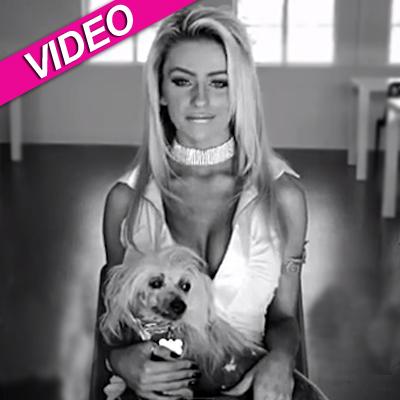 By Alexis Tereszcuk - RadarOnline.com Entertainment Editor
There is one thing Courtney Stodden won't do -- eat meat!
The buxom Teen Bride taped a new video for PETA where she says she switched to "a vegetarian," and eloquently states her reasons why she isn't ever going to eat meat again.
"Growing up I've always had so much love for animals. I wasn't fond of eating meat, anything with a face, because I just felt like it was an awful thing to do," she says while holding her dog Bizarre and showing off her ample cleavage in a dress with a plunging neckline.
Article continues below advertisement
"Just recently I switched to a vegetarian," the 17-year-old said about her new lifestyle choice. "I had my first Thanksgiving with being a vegetarian. No turkey. I had tofu, a vegan dish, I did not miss turkey!"
Courtney, who married her 51-year-old sweetheart Doug Hutchison last May, said she's never even had a hamburger.
"I'm so glad I can say that. I never want to eat a hamburger!"
She says her reasons for not eating meat are moral ones.
"Why enjoy one meal when you're killing a life," Courtney said the video of the animals being slaughtered horrified her.
"It broke my heart, I was crying for about an hour. They have a painful death. We need to be a voice for them. To help save lives that are being slaughter. The best way to save animals is to not eat them. Go vegetarian!"
Taking a break from parading around in her bikini, Courtney gave two reasons why being a vegetarian is the right thing to do.