Exclusive
Bedroom Nightmares! Ramsay's Ex-Mistress Claims There Is A 'Gordongate' Sex Tape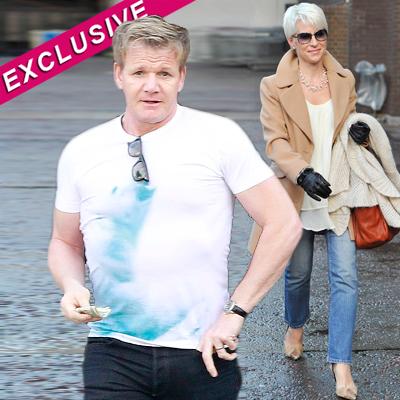 By Debbie Emery - Radar Reporter
Celebrity chef Gordon Ramsay is famous for his acid tongue and hot temper, but soon he could be known for something even steamier, if a rumored sex tape ever becomes public, RadarOnline.com is exclusively reporting.
The Hells Kitchen star's ex-mistress, Sarah Symonds, claims that the couple made a raunchy home movie during their affair that may now have landed in the wrong hands.
Article continues below advertisement
"The Metropolitan Police (in London) contacted me recently to tell me that during their investigations into the News Of The World and Rupert Murdoch phone hacking inquiry they found sensitive information on Gordon and me, including tapes and transcripts of our personal meetings towards the end of our affair in 2008, and intimate phone conversations and voice mails," Symonds told Star magazine in an exclusive interview, and she is now worried that they may have found more X-rated evidence.
"I know from a source that there is a sex tape too, I wonder if the police have found it though, and if so what happens to it?" she asked.
"I am desperately trying to find out. I feel very vulnerable that my personal business is being reviewed by Scotland Yard," revealed Symonds. "Gordon has been contacted too, and informed of the situation by the same Detective Constable who contacted me."
As RadarOnline.com previously reported, the blonde Brit claims to have had a steamy on-off affair with the foul-mouthed chef for seven years and has even written a book about infidelity entitled Having An Affair? A Handbook For The Other Woman, and now runs a blog called Pillow Talk.
Article continues below advertisement
Despite her illicit actions with the married father-of-four, Sarah said she does have some regrets.
"I feel bad for his family if this tape comes out, and I don't want it to. I have moved on and put the whole Gordon affair behind me and have closed that chapter of my life and bad behavior forever," Symonds told Star.
"I have reformed and no longer date married men. In fact I have even moved countries to make a fresh start in Canada, where I am filming my new reality show called The Mistress, which highlights my work with women to get them out of their affairs and into real relationships.
"My life, work, and TV show, is all about living in the truth. As much as I don't want the Gordongate sex tape to get into the wrong hands, if it does, I believe the only good that could ever come of it is that it would shatter Gordon's denials and prove I have been telling the truth all along."
Gordon Ramsay's rep had "no comment" when reached.
RELATED STORIES:
Gordon Ramsay's Stunning New $7M Bel Air Mansion: Take A Peek Inside!