Jimmy Fallon Spoofs Downton Abbey As The 'Earl Of Downton Sixbey'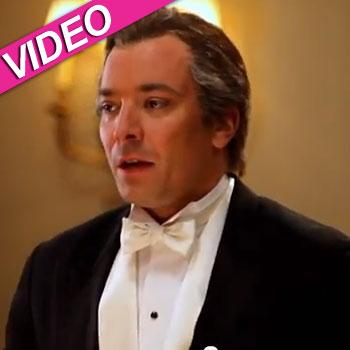 Article continues below advertisement
Former SNL funny man Fallon is joined by an equally elegant Brooke Shields, who poses demurely by his side as the beautiful Lady Nora.
In the clip, the Earl of Downton Sixbey, played by Fallon, is hosting a talk show and steps backstage into the grandeur of the period drama, adopting a prim English accent while complaining about the lack of good Kardashian jokes to his butler.
Trauma hits the candle-lit writers' room as the workers, dressed in tuxedos, struggle to come up with sketches about Kim and her family, as outside disillusioned staff huddle in corridors complaining about their treatment from the aristocracy while smoking cigarettes.
Back upstairs, the Earl introduces his three daughters, one who is "smoking hot," and another who is played by Fred Armisen in drag!
Then tragedy strikes as news arrives that the current heir to Downton Sixbey, Carson Daly has been in a hot air balloon accident with Christina Aguilera, and is reported missing. A new male heir must be named, who is no other than the Earl's "nephew," Questlove.
The full skit airs on Friday night's episode of Late Night With Jimmy Fallon.