Plus Size Debate: Crystal Renn's Weight Controversy Won't Die Down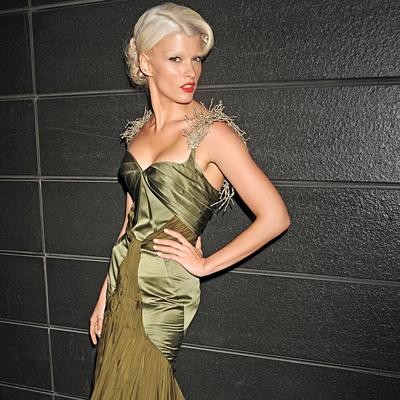 Former plus-size model Crystal Renn just can't seem to win the public over with her constant weight issues.
She's been criticized for being too thin (she wrote a memoir in 2009 about her struggles with anorexia) and then when she plumped up to 165 pounds, people were concerned she gained too much weight.
Now, she recently was spotted out flaunting a much thinner frame once again and the 25-year-old caused an uproar among the social media world not to mention sparking a lot of controversy when some were quick to accuse her of reverting back to her unhealthy ways to lose a few pounds.
Article continues below advertisement
Many women have their ups and downs with this problem so why do people care so much about Crystal Renn's fight?
According to Marsha Hudnall, a registered dietitian, the press' fixation with a public figure's fluctuating weight isn't anything new, but that doesn't make it all right for young women.
"That obsession isn't healthy for anybody, regardless of their size," Marsha tells Shape magazine. "Society wants Crystal to fit in a 'box' neatly on either end of the scale - extremely thin or plus-size. Now that she doesn't fit into one of these boxes, it almost seems that people are questioning her honesty."
Crystal told the Daily Mail that she's now at a healthy size and depending on the designer she wears anywhere from a 6 to sometimes a 10 - she was a size 16. She said the weight loss is due to a more active lifestyle, which includes hiking and yoga.
"The problem is, we don't know what a healthy weight is for Crystal," Marsha says. "It's not fair to assume that her weight loss is due to something other than what she says it is, which is that she has adopted behaviors in the name of health, and weight loss is an outcome of that for her body."
Article continues below advertisement
Sarah Maria, a body-image expert and author of Love Your Body, Love Your Life, agrees that as long as the model is taking care of herself, there shouldn't be any public outcry.
"Crystal has done a fabulous job of being proud in and about her body and sharing this message with women," Maria tells Shape. "She, however, should have every right to take care of her body and herself in a way that works for her."
Maria continues, "It is just as harmful to force someone to be a small size in order to model as it is to prevent someone from losing weight in order to model."
"Crystal's agent says she is healthy and feels amazing right now, so that's what we want to focus on, not the weight loss," Marsha says. "It's about all of us in society taking responsibility for how we think of health and beauty and not making it about body size."