Mariah Carey On Pregnancy: 'I Felt Like I Was Nine Months Pregnant The Whole Time'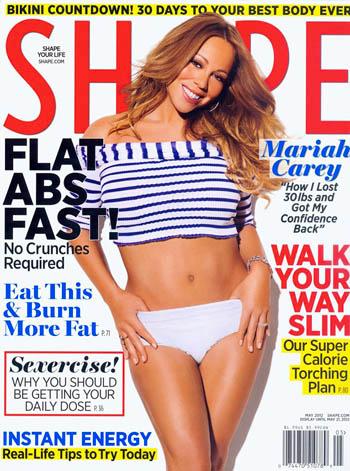 It wasn't easy gaining 70 pounds while pregnant with "Dem Babies", but Mariah Carey insists that it was well worth it!
The chart-topping singer, who welcomed her first children with husband Nick Cannon in 2011, opens up about her pregnancy weight gain and loss and flaunts her fabulous post-baby body in the May 2012 issue of Shape magazine – and RadarOnline.com has the details.
"Pregnancy was probably the best and the hardest thing I'll ever go through," Carey reveals. "I know for a lot of women, it can be wonderful and relatively easy. But for me, it was like, 'Okay, honey, do you have to do everything the hard way?'"
Article continues below advertisement
"I felt like I was nine months pregnant the whole time I carried them."
The star reveals that she put on a whopping 70 pounds during the pregnancy, most of which was water weight.
"If you look at photos of me when I was pregnant, you'd say, 'Wow, she gained 9,000 pounds!'"
Three months after Carey gave birth to twins Moroccan and Monroe, she signed on as Jenny Craig's brand ambassador, and within six months dropped 30 pounds from her structured diet and daily exercise regiment.