Mariah Carey On Post Baby Weight Loss: 'Twins Wreak Havoc On Your Body'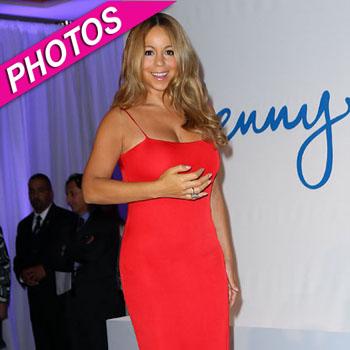 Mariah Carey sacrificed her famous body to fulfill her dream of becoming a mom earlier this year and has admitted how her double pregnancy took it's toll on her figure.
After losing 30 pounds in three months, the Glitter singer is celebrating both her fabulous slim-down and her role as the latest Jenny Craig celebrity brand ambassador, and RadarOnline.com has photos of her svelte new figure and behind-the-scenes footage of her sexy commercial.
Article continues below advertisement
"I gained an enormous amount of weight," 41-year-old Mariah told Us Weekly when she announced her partnership with the national diet plan in a new era of the brand, simply called 'Jenny.'
"It was a huge blessing to be able to have the babies. But I felt trapped in my body because I couldn't move."
In a candid video interview during shooting of the Jenny advertisement in which she shows off the return of her famous toned stomach, Carey revealed how her first pregnancy wasn't as easy as she made it out to be.
"I had a lot of complications when I was pregnant with my twins," admitted Mariah, who gave birth to Moroccan and Monroe on April 30.
"People don't want to hear you complain, it is a blessing, I got doubly blessed, but with twins they wreak havoc on your body.
"I barely made it through by a string, I was hanging on by a string," she revealed. "I have been through my struggles in my life...putting on all that weight for me was so difficult and so debilitating."
Article continues below advertisement
After piling on the pounds, the Grammy award-winning singer took the plunge to join Jenny in July and kick-started a 1,500 calorie-a-day diet and three times-a-week workouts.
"When I spoke to the people at Jenny Craig, they got it, they understood," she said. "I love the program. One thing people don't think about is the convenience factor."
Instead of starving or feeling food-deprived, Mariah enjoys healthy twists on pizza, mac 'n' cheese, chocolate crisp bars and even S'mores! "When you're dieting, things like that life you up," said the satisfied star.