Mariah Carey Shows Off Sexy New Figure On Rosie Show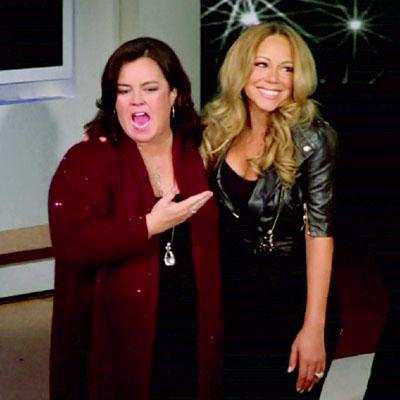 Mariah Carey showed off her svelte post-baby body in a mini-skirt on Tuesday's edition of The Rosie Show, and the Fantasy singer credits dropping 70 pounds since giving birth to a loss of water weight and sticking to a diet from her new employer, Jenny Craig (now known as just Jenny).
The 42-year-old Vision of Love singer, who delivered her twins Moroccan and Monroe in April, said eliminating an excess of water weight put her on her path to the dramatic weight loss.
Article continues below advertisement
"In the beginning, when I first had the babies, I had so much edema … water and swelling. Most pregnant woman have that just in their feet," Carey said. "One day I was doing my thank-you notes and I noticed it started rising up the leg, so I had edema. … I didn't think I would ever be the same person.
"The first week, I lost 40 lbs. … of just water -- it was just water, initially."
Carey said when she started with the Jenny Craig program, she "lost at least 30 pounds of weight that needed to be lost."
She emphasized that the most important issue at hand was not her sexy new figure, but her health.
"The whole point of this is not just like: 'Oh, hey, look at me and my weight loss, I'm fantastic.' It's really health," she said. "Like I said, I learned it when I became helpless and felt so vulnerable like never before in my life."
She estimated the "the diet was 90 percent of" her improved figure and health.