Ricki Lake: No Regrets About Past Yo-Yo Weight Struggles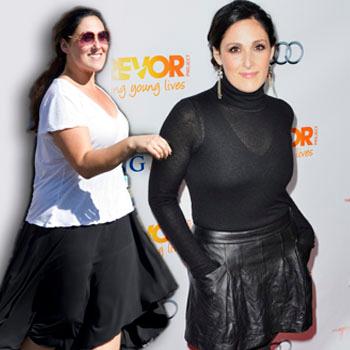 Ricki Lake has ranged from sizes 4 to 24, and in a new post on her iVillage blog, she says she has no regrets about the ups-and-downs, as they've helped her grow comfortable in her own skin.
"Weight became an issue for me early in life," the slimmed-down mother-of-two wrote. "I haven't made a secret about being sexually abused as a youngster, and I believe that my subsequent weight gain was a subconscious effort to make myself seemingly less attractive to the opposite sex.
Article continues below advertisement
"I had spark and charm to spare, though, and I leveraged my personality and drive to make things happen."
Lake even ventures to credit the extra pounds with her early breakthroughs in show business.
"I wouldn't trade a thing for the opportunity to have played Tracy Turnblad in John Waters' original Hairspray, and being zaftig was part of the gig," she wrote, noting she "became good at being the chunky heroine and continued to work in Hollywood."
Lake wrote that following her gig on Dancing with the Stars, "I have really learned what my body is all about and what it is capable of."
She said at 43, energy and health motivate her more than vanity in how she comes to decisions concerning exercise and nutrition.
The healthy lifestyle, Lake said, "is less about the jeans and more about the drive I have to work, parent and enjoy life to the fullest."