Former Plus-Sized Model Crystal Renn Continues To Waste Away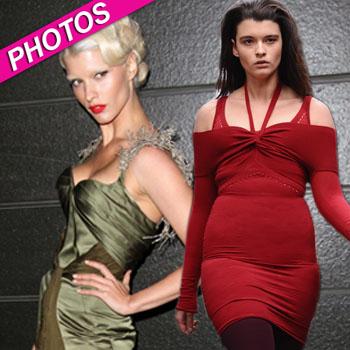 It's hard to believe that Crystal Renn was ever a plus-sized model!
The 25-year-old catwalk crawler, who was formally a role model in the plus-sized model community, can't stop losing weight! Hitting the 9th Annual Spring Dinner Dance New Year's In April: A Fool's Fete in New York City on Tuesday night, the newly blonde flaunted her even slimmer figure in a Zac Posen gown – and RadarOnline.com has the photos and details about her supermodel to plus-sized model and back to supermodel transformation.
Article continues below advertisement
Crystal, who stripped down into a skimpy bikini for her first appearance in the Sport's Illustrated swimsuit edition this year, struggled with anorexia during her teenage modeling years, which she detailed in a book she penned called Hungry: A Young Model's Story of Appetite, Ambition and the Ultimate Embrace of Curves.
Back in November 2010, Renn, who had enjoyed several successful years as a size 12 plus sized model, revealed that she had lost weight from hiking and yoga, and was down to a size 8 – but from the looks of her body last night, she has dropped several more dress sizes since.
The 5 ft. 9 in. model has admitted that at the peak of her eating disorder, she weighed a mere 95 pounds.
In February 2011, after her weight loss started to gain criticism, Renn blasted back on the Ford Models blog that there was nothing to worry about.
"When this whole weight loss thing happened, I think that a lot of people wanted to point their finger at somebody. I think that they wanted to find a conspiracy where there absolutely was none."
Article continues below advertisement
But while she insists that there is nothing wrong with her recent weight loss, eating disorder specialists and activists in the plus-sized community have their concerns.
"It is common for people with eating disorders to have periods of relapse. This can be caused by numerous factors but most common are emotional issues," psychotherapist Jessica Aronson, who has not worked with the star, told RadarOnline.com in an exclusive interview.