Weight Loss Winners & Sinners! The Best & Worst Diet Spokeswomen Of All Times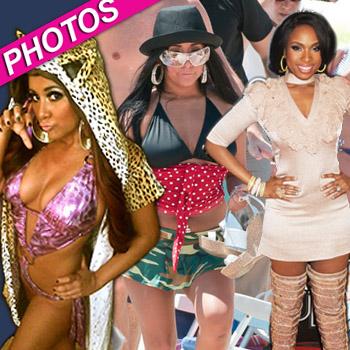 It gained for these ladies to lose, but was their weight loss worth it for the diet companies they endorsed?
From the biggest weight loss success stories of the decade to stars who packed the pounds right back on, RadarOnline.com has photos of the best and worst diet spokeswomen of all times in a special photo feature!
Jennifer Hudson is an American Idol when it comes to weight loss! The Academy Award winner, who soared to international stardom as a full-figured soulful singer on the popular television show, shocked the world when she dropped 80 pounds in two years -- with the help of Weight Watchers! Now that's what we call a great investment!
Article continues below advertisement
Skinny her whole life, Tori Spelling was an unlikely choice as the spokeswoman for NutriSystem. In 2007, the star claimed that the diet system helped her shed her baby weight after giving birth to her first son, Liam Aaron McDermott, but two more babies on and Tori has seemed to have no problem dropping dress sizes on her own!
What's a great way to lose your contract as a diet spokeswoman? Launch a dessert company! Carnie Wilson, who struggled publicly with obesity for decades and even got gastric bypass surgery, learned this the hard way when she landed and lost a campaign with The Fresh Diet.
"Carnie Wilson was let go as spokesperson for The Fresh Diet after losing only 19 lbs on the program -- and then gaining it all back (plus some) after she launched her own cheesecake company," said Ezzy Duchman, spokesperson for The Fresh Diet. "If you're baking cheesecake and selling it, then you can't promote a diet company," he added.
What other biggest losers -- and sometime gainers -- were the best and worst diet spokeswomen of all times? Find out by clicking here.