Exclusive
Recently Rehabbed Gerard Butler Parties Hard At Coachella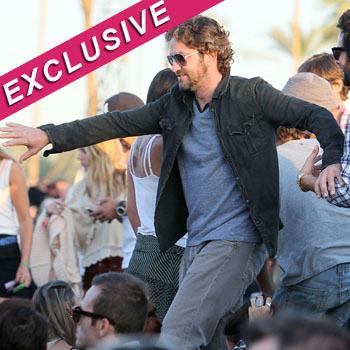 Just six weeks after leaving rehab to treat an addiction to prescription pills, Gerard Butler was spotted partying up a storm at the Coachella Music Festival in Indio, Calif.
Butler, 42, finished his rehab stint at the famed Betty Ford Center in February, but a source told RadarOnline.com exclusively that the Scottish born star seemed to be having a wild time over the weekend.
"Gerard partied like crazy at Coachella," an eyewitness said. "He looked totally disheveled at one point. He was dancing like a crazy guy."
Article continues below advertisement
Butler has spoken of his struggles with alcohol addiction in the past, admitting that at one point he didn't care if he died.
"I had gone from a 16-year-old who couldn't wait to grasp life to a 22-year-old who didn't care if he died in his sleep," he told The Red Bulletin.
"I used to drink until I couldn't remember anything. I was just mad for it and on a death wish. It was madness."
Another source who spotted Butler at Coachella tells RadarOnline.com that the actor stayed out all night long partying.
"It looked like he was having a whale of a time throughout the day Saturday, he attended the Lacoste party and then he was at the Neon Carnival until 5 a.m.!
"He looked pretty sloppy," the source said.
Calls for comment to Butler's rep were not returned at time of posting.
RELATED STORIES:
Gerard Butler's Married Mistress Also Cheated On First Husband, With Dave Navarro!
Hollywood Home Wrecker! Gerard Butler Accused Of Breaking Up A Marriage