Exclusive
Gerard Butler's Married Mistress Also Cheated On First Husband, With Dave Navarro!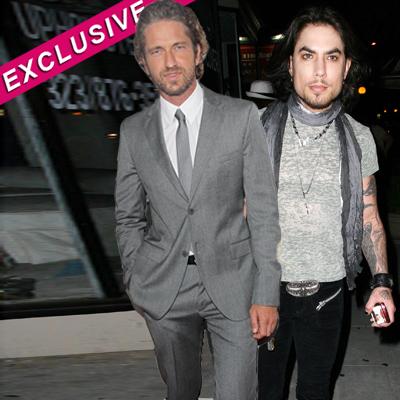 Article continues below advertisement
"Name redacted had an affair with Dave Navarro that caused the end of his marriage to Carmen Electra. She told me about the relationship and we subsequently dissolved our own marriage," the woman's first husband tells RadarOnline.com exclusively.
As RadarOnline.com has previously reported Butler checked himself into The Betty Ford Center earlier this year to deal with his addiction issues, but before entering rehab the Scottish actor carried on a steamy affair for months with the woman which ultimately resulted in the end of her second marriage of less than a year.
Butler became involved with the actress last year and carried on an affair with her for several months. The hunky actor was actually friends with the woman and her husband before becoming sexually involved with her. "It was a very intense relationship. She had very strong feelings for Gerard, despite the fact that she was a newlywed at the time," a source close to the situation told RadarOnline.com. "They would exchange heated text messages, emails and phone calls. She would drop anything to be with Gerard. The two would hook-up at his hotel when he was in Los Angeles."
Article continues below advertisement
The newlywed's husband eventually found out about the affair though and threatened to divorce her, but she begged for another chance. However, she continued to see Butler behind her husband's back and the couple eventually divorced.
"She told her husband she would end things with Gerard and he agreed to give her another chance," the insider told RadarOnline.com. "However, the affair continued and she decided to file for divorce. She thought Gerard wanted to be in a relationship with her but then she found out he was involved with other girls, and hadn't been exactly honest with her about what was going on in his life."
Meanwhile, the woman's first husband had no idea his former wife had been hooking up with the actor. "I was unaware of any relationship she had with Gerard Butler," he tells RadarOnline.com. "She called me a couple of weeks ago crying and saying she was getting divorced, but I had no idea why. Her current husband was really good with our son, and my son really loves him. Name redacted and our son come to Michigan every summer and stay with me. She is a great mother, but maybe not so good when it comes to romantic relationships."
Article continues below advertisement
According to the woman's divorce documents she is seeking spousal support from her second husband, even though they had a prenup, were married for less than a year and had no children together.
Butler's rep did not respond to calls for comment. Meanwhile, the mistress insists she only has met Butler once at a movie premiere, and she denies having any relationship with him.
RELATED STORIES: