Exclusive
Hollywood Home Wrecker! Gerard Butler Accused Of Breaking Up A Marriage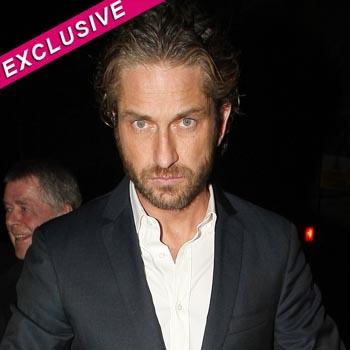 By Jen Heger - RadarOnline.com Legal Editor
Before entering rehab last year, Gerard Butler was involved in a steamy relationship with a wanna-be actress/model that resulted in the end of her marriage, RadarOnline.com is exclusively reporting.
As previously reported, the Scottish actor recently completed a three week stint at the Betty Ford Center to deal with addiction issues. "Gerard has completed a successful course of treatment and has returned home in good health," his rep said in a statement. "We will not be making any further comment at this time."
Article continues below advertisement
The hunky actor became involved with the actress last year, and carried on an affair with her for several months. Butler was friends with the woman and her husband before becoming sexually involved with her.
"It was a very intense relationship. She had very strong feelings for Gerard, despite the fact that she was a newlywed at the time," a source close to the situation tells RadarOnline.com. "They would exchange heated text messages, emails and phone calls. She would drop anything to be with Gerard. The two would hook-up at his hotel when he was in Los Angeles."
The woman's husband eventually found out about the affair and threatened to divorce her but she begged for another chance.
"She told her husband she would end things with Gerard and he agreed to give her another chance," the insider says. "However, the affair continued and she decided to file for divorce. She thought Gerard wanted to be in a relationship with her but then she found out he was involved with other girls, and hadn't been exactly honest with her about what was going on in his life."
Article continues below advertisement
According to our sources, "The woman began calling Gerard incessantly and he changed his cell phone number. She hasn't been in touch with him since he decided to go to rehab. Gerard has obviously moved on but she is now going through a divorce and trying to support her son (from a previous relationship)."
Requests for comment to Gerard's rep were not returned at time of publishing.
RELATED STORIES: