Gerard Butler Details His Heavy Boozing Past 'I Didn't Care If I Died'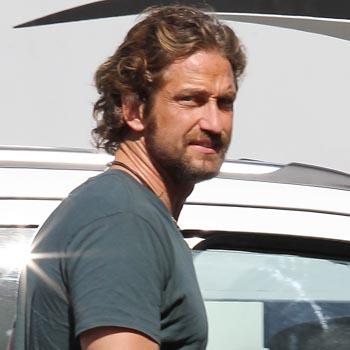 Gerard Butler has certainly come a long way since hitting bottom and giving up booze!
The Scottish actor, whose blackout drinking destroyed his career ambitions to become a lawyer in his twenties, explains why he quit drinking and how he got his life back together just in time to become an internationally known actor in an extensive new interview.
"I had gone from a 16-year-old who couldn't wait to grasp life to a 22-year-old who didn't care if he died in his sleep," the actor revealed to Chris Sullivan of The Red Bulletin about his heavy drinking.
Article continues below advertisement
Butler, who was working as a trainee at an Edinburgh law firm during the time, explains that his drinking got him fired from the job.
"I used to drink until I couldn't remember anything. I was just mad for it and on a death wish. It was madness."
Unemployed, Butler, who had no acting training, quit drinking and moved to London where he reunited with an old girlfriend who was a casting director. She scored him his first role in a play at the age of 27, and his career took off from there.
"One or two drinks was never enough for me. I was a foot-on-the-floor-all-the-way drinker, so it had to go. I don't miss it. Now it's as if I never had a drink in my life. At one point, I could never have conceived going out and not drinking but, as time goes on, you lose the urge and the insecurity that often makes people drink in the first place."
Butler, who has been romantically linked to a bevy of beauties including Jennifer Aniston, Ashley Greene and Brandi Glanville, played coy when asked about his bachelor reputation.
Article continues below advertisement