It's Game Time! Check Out The Amazing Pads Of Baseball's Top Players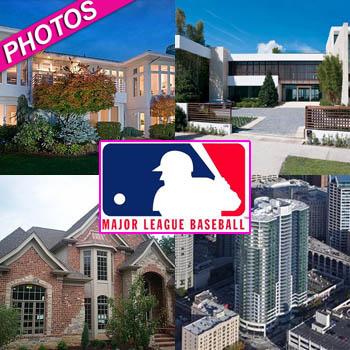 By Debbie Emery - RadarOnline.com Reporter
Spring means baseball, and as fans across the country get ready to enjoy America's favorite past time, RadarOnline.com has photos of the homes of the sport's biggest stars, courtesy of our friends at Zillow.com.
Despite spending half of the season from April until October on the road playing in away games, these MLB millionaires relax the rest of the time at their stunning mansions, and by the look of things they certainly have enough space to enjoy their R & R.
Article continues below advertisement
New York Yankees captain Derek Jeter escapes the cold northeastern winter during the off-season and heads down south to Davis Island in Tampa, Florida where he owns a 7-bedroom, 9-bath 30, 875 square-foot mansion. The stunning waterfront property is perfect for lazy days and downtime in the sun, with a pool, two boat lifts, a drive-through portico and a pair of three-car garages on either end of the property.
Fellow Yankee star Alex Rodriguez certainly makes good use of his Miami, Florida mansion, and he was spotted hosting some wild parties there last year after breaking up with Cameron Diaz. A-Rod bought the $24 million modern home in 2010, and no doubt now entertains his new lady love, pro-wrestler Torrie Wilson at the waterfront love nest.
San Francisco Giants hot shot Tim Lincecum is nicknamed 'The Freak' on the field, but in his hometown of Seattle, Washington he made a very sensible real estate investment and bought a $1.5 million condo in the Pacific northwest city with sweeping views of the Space Needle.
Article continues below advertisement
All-Star phenomenon Albert Pujols signed with the Los Angeles Angels of Anaheim in the off season after 11 years playing with the St Louis Cardinals. Despite the professional move to the west coast, he has kept his home in the upscale suburb of Wildwood and has kept his French chateau-style mansion.
Known as the greatest Japanese ball player in the MLB, Mariners player Ichiro Suzuki lives in the Seattle suburb of Issaquah when he's stateside across from Lake Washington, Oregon. He sold his fabulously stylish white hillside home in 2009 for $1.35 million and bought another equally amazing abode nearby.