Heavily Muscled Woman Goes Head-Over-Heels For A-Rod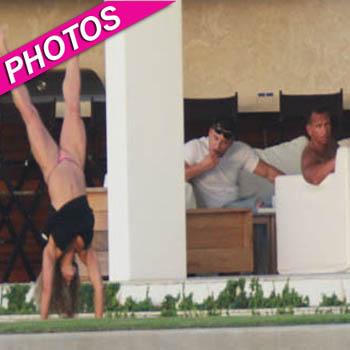 Having dated seriously-ripped stars Madonna and Cameron Diaz in the past, Alex Rodriguez clearly loves strong women and the latest female to catch his eye looks like she could definitely put him in a headlock.
The New York Yankees player was entertained by a super-toned superwoman who flipped upside down and did handstands next to him while he relaxed poolside at his Miami, Florida home on Thursday, and RadarOnline.com has all the photos of her scantily-clad performance.
Article continues below advertisement
The cartwheeling guest at his backyard BBQ didn't seem to mind that her little black dress fell around her ears as she flicked her feet above her head to show off her muscular thighs and toned behind, which was barely covered in a tiny thong.
Used to having women literally throw themselves at him, Rodriguez seemed unfazed by the show as he wandered around the landscaped yard in a pair of tartan shorts chatting seriously on his cell phone and hanging with his buff buddies.