Exclusive
PHOTOS: Cameron Diaz And A-Rod Look Very Much Together In Miami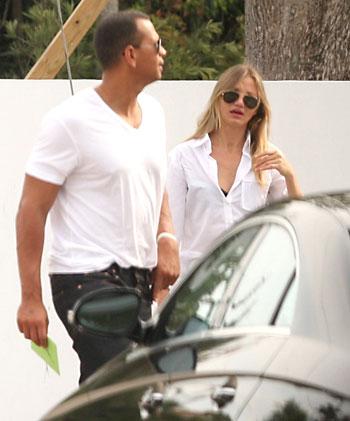 Following hot on the heels of reports that Cameron Diaz and Alex Rodriguez had split, the two were spotted together in Miami on Monday, looking very much a couple still.
The actress and her baseball beau were hanging out with his family and stopped by a building site where the Yankees third baseman is reportedly building a mega mansion.
It follows some big time PDA between the two Sunday, where they were spotted making out at an MTV Movie Awards after party at the swanky Soho House in Los Angeles.
Article continues below advertisement
But, despite all the togetherness it's still unlikely you will see them walking down the aisle anytime soon.
In a revealing interview with Britain's News of the World newspaper at the weekend, Cameron, 38, revealed her views on marriage, which she sees as old fashioned.
"I don't think we should live our lives in relationships based off old traditions that don't suit our world any longer," she said.
Click Here To See The Sexiest Bikini Blondes, Brunettes & Redheads Stripped Down
"I think a lot of people are married to people that they're not romantic with any more.
"We have to make our own rules. I just didn't ever marry anybody that I then had to get divorced from. We break up. We move on."
RELATED STORIES:
A-Rod & Cameron Diaz Play Ball