NEW PHOTOS: Cameron Diaz & A-Rod Play Ball!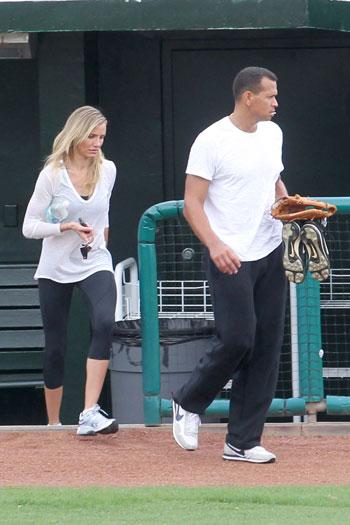 Alex Rodriguez has a big diamond for Cameron Diaz, but no, it's not that kind.
The hottest actress/athlete couple hit the baseball diamond in Florida on Friday and RadarOnline.com has the new photos.
NEW PHOTOS: Cameron Diaz & A-Rod Play Ball
A-Rod got in a workout as Diaz watched from the dugout, at times smiling, other times looking bored.
The Yankee slugger and Charlie's Angel have been inseparable and were seen at the Super Bowl where they were captured on camera right as Diaz put popcorn in A-Rod's mouth. (We're sure his teammates are going to have something to say about that once they are all together for spring training.)
Article continues below advertisement
A-Rod hit the field in long pants and a t-shirt as Cameron patiently waited, sipping water.
We're sure the Yankees are happy that Diaz has been such a positive influence on their star!
RELATED STORIES: