American Idol: Elimination Night Ends With A Twist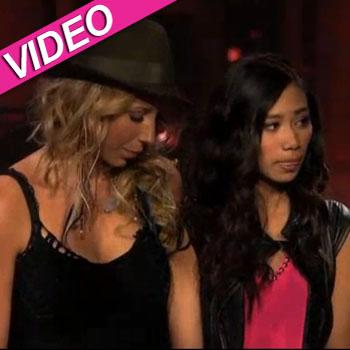 One of the remaining seven contestants was sent packing on Thursday's edition of American Idol — following a night in which the remaining singers took on contemporary rock tunes — or were they?
San Diego teen Jessica Sanchez got the coveted save from judges Steven Tyler, Jennifer Lopez and Randy Jackson in an emotion-packed results show after she received the lowest amount of votes from America.
Article continues below advertisement
Sanchez, 16, was at the bottom in the tally of viewer votes, but after showing off her remarkable talents with a rendition of Deborah Cox's Nobody's Supposed to Be Here, the trio gave her a second chance.
Said Jackson: "We are saving Jessica without any doubt! This girl is one of the best singers in America, ever!"
Lopez added, "Give me that mic … this is crazy! Yes, we're using the save. You ain't going home."
After snagging the life-saver, Sanchez said she wants "people to know I've been working hard my whole life."
Watch the video on RadarOnline.com
Earlier this season, Sanchez stole the show shortly after Whitney Houston's death, delivering a stunning rendition of the late singer's signature hit, I Will Always Love You.
Elise Testone and Joshua Ledet -- both coming off performances the judges loved -- rounded out the bottom three with Sanchez, prompting Jackson to grouse, "I've never seen this happen … this is a ridiculous bottom three, America."
Article continues below advertisement
Idol alums Jennifer Hudson and James Durbin returned to the show Thursday to perform. Hudson did a duet with Ne-Yo.
American Idol's 11th season continues Wednesday at 8/7c on Fox.