Never Underestimate The Power Of Music! Elderly Man 'Brought Back To Life' By Cab Calloway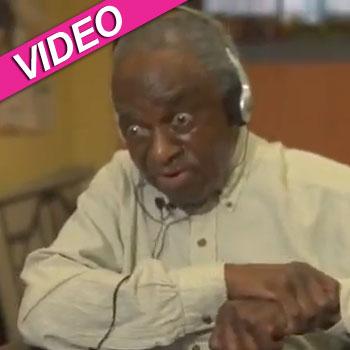 By Debbie Emery - RadarOnline.com Reporter
An elderly man who was wasting away in a nursing home has gotten a new lease on life thanks to an iPod filled with all his favorite big band tunes.
Named only as Henry, the wheelchair bound pensioner is the subject of a new documentary called Alive Inside by Michael Rossato-Bennett that investigates the therapeutic affect of music.
"He used to always sit on the unit with his head (down)... he didn't really talk," reveals Henry's caretaker Yvonne Russell, in a video clip from the fascinating film, obtained by RadarOnline.com.
Article continues below advertisement
The depressed, empty shell who had lived in the nursing home for the past 10 years barely speaking is a sharp contrast to the happy-go-lucky, fun-loving father who used to swing around lamp posts as he re-enacted moves from Singing In The Rain for his daughter, Cherry.
But when social worker Dan Cohen and neurologist Oliver Sacks put their Music & Memory theory to the test and gave Henry and other patients with degenerative diseases iPods stacked with music, the transformation was miraculous.
"Immediately he lights up. His face assumes expression, his eyes open wide...he's being animated by the music," reveals Sacks.
After previously only being able to answer a simple "yes" or "no" response, he can suddenly describe his emotional journey again.
"It gives me the feeling of love, of romance. I figure right now the world needs to come into music, singing. You've got beautiful music here," he tells the filmmakers, before breaking into a rendition of the beloved song I'll Be Home For Christmas by Cab Calloway.
The Music & Memory organization is accepting donations of new and used iPods to help more nursing home patients. Alive Inside premieres on April 18 at the Rubin Museum in New York.