Kelly Clarkson's 'Duets' Show Spoiler, Reveals Her Top Two Choices!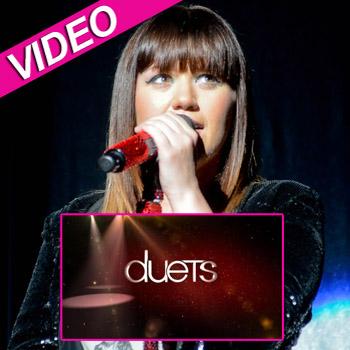 Kelly Clarkson is so excited about her new show on ABC that the former American Idol winner may have prematurely revealed her top two Duets choices, and RadarOnline.com has the video to prove it.
Duets doesn't premiere until May 24 but during a concert in San Diego on Tuesday, Kelly brought Jason Farol and Julianna Gutierrez on stage with her, saying she was "very excited about finding my two people."
Article continues below advertisement
Kelly joins Lionel Richie, Robin Thicke and Jennifer Nettles on a quest to tour America searching for undiscovered talent, two of which will join them as their duet partners.
According to the official Duets website on ABC.com, "Ultimately, each Superstar will choose two singers to be their duet partners. Together, the Superstar and their protégé will take the stage each week and perform in front of a live studio audience. In the end, only one duet will be at the top of the charts and the winning amateur will receive a recording contract with Hollywood Records."
"I'm very excited about finding my two people. I have looked at so many videos of people singing that want to be on the show with me and we're going to compete against other teams and we're totally going to win," Kelly told the audience during her show on Tuesday.
"I have auditioned and auditioned and I actually came down to a couple people that I'm very excited about, but my test for them is to put them in front of an audience. So do you all mind being a part of this? Both of these singers are incredible, so be prepared for that."
Jason joined Kelly onstage to cover The Civil Wars' Poison & Wine while Julianna belted out Georgia On My Mind with Kelly.
What do you think of her choices? Leave your comments below…