Hi-Yah! Sharon Osbourne & Miss Piggy Battle It Out In Jealous Rage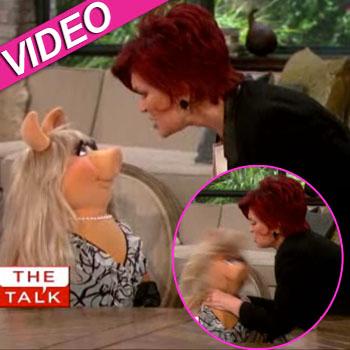 Article continues below advertisement
"What was that?" The ever-so-glamorous Miss Piggy demanded to know after the incriminating snap was flashed on screen.
"That was just, in the morning Kermit likes his feet rubbed," Sharon coyly replied, turning the usually pink pig a distinct shade of green with envy.
"You were just giving him a massage!" Miss Piggy charged before unleashing one of her famous karate chops on Osbourne.
But, Miss Piggy's got nothing on Sharon, who unleashed her full fury on the sexy swine, pulling her hair and dragging her to the ground in a neck throttle!