Exclusive
The Situation's Prescription Drugs Of Choice: Xanax & Ambien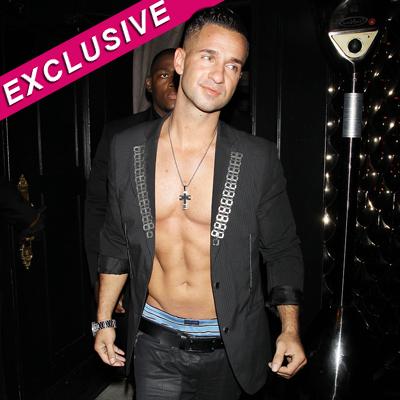 By Jen Heger - RadarOnline.com Assistant Managing Editor
Jersey Shore's Mike "The Situation" Sorrentino is in rehab for his addiction to Xanax and Ambien, RadarOnline.com is exclusively reporting.
As RadarOnline.com was first to report, the reality star has been battling a prescription pill problem for months after years of hard partying. He is currently being treated at Cirque Lodge in Utah.
"Mike's being treated for his addiction to Xanax and Ambien," an insider tells radarOnline.com. "He had been taking very, very large amounts of the two drugs to counter-act his hard partying, which included use of illegal substances. It was getting extremely dangerous for Mike because when he would take Ambien and Xanax he would already be under the influence, and he would forget how many pills he took, causing him to take too many sometimes. Mike was blacking out, and suffering from memory loss, which is very common when taking large doses of the two prescription drugs."
Article continues below advertisement
As previously reported, according to The Situation's dad , Frank "The Confrontation" Sorrentino, this is his son's second stint in rehab.
"When Mikey was in rehab we found the facility for him in Florida and we brought him down here and did a seven day dry-out period, then he went to another facility for 30 days," he claimed.
As a parent, Frank said he struggled with his son's substance abuse problems. "For me, after years of dealing with his addiction, years of dealing with all the bulls**t, this wasn't a 16-year-old kid. The guy was a 27-year-old man. I was just hoping he would be able to stand up," he said.