The Situation's Father Says It's His Son's SECOND Time In Rehab: Was In When He Was 27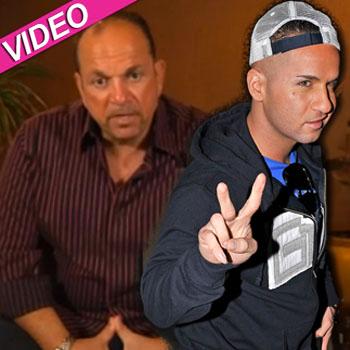 Article continues below advertisement
"When Mikey was in rehab we found the facility for him in Florida and we brought him down here and did a 7 day dry out period then he went to another facility for 30 days," he said.
As RadarOnline.com previously reported, Mike is currently in treatment for his prescription pill addiction after years of hard partying, but the first time he was in rehab his financial situation was so dire that his brother Mark paid for him to get treatment!
"Mark took care of a lot of financial obligations that Mike needed," his dad said. Frank recalled that Mike's issues became so bad that it was imperative for them to get him into treatment.
"I did all the leg work in Florida and to make sure he got here and to make sure that we secured a spot because he so desperately needed the help," he said.
Frank said he visited his son every day for the first seven days and then when Mike was moved he wasn't allowed to see his family for the first two weeks. After that, his brothers visited until Mike was released but his father said that in hindsight he doesn't believe he was ready to leave rehab at that point.
Article continues below advertisement
"I gotta say I'm not a psychologist or a drug addiction counselor. I didn't recognize the symptoms that he wasn't well yet," he said.
As a parent Frank said he struggled with his son's substance abuse problems. "For me, after years of dealing with his addiction, years of dealing with all the bullsh*t, this wasn't a 16-year-old kid. The guy was a 27-year-old man. I was just hoping he would be able to stand up," he said.