Exclusive
The Situation's Dad Challenges Michael Lohan -- 'Be Careful What You Ask For Because You May Get It'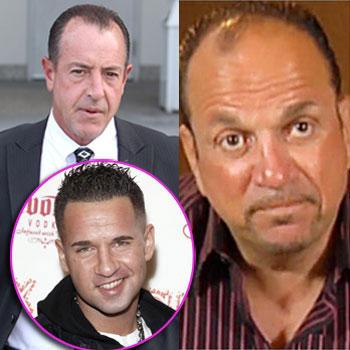 RadarOnline.com Staff Reporter
UPDATE: Michael Lohan tells RadarOnline.com he never challenged Frank Sorrentino to anything and has just gave us this statement: "First of all, he has to learn how to talk. Obviously his vocabulary is less than appropriate. Even though I just got out of surgery, if I had to climb into the ring with him on crutches, after the way he spoke to me, I'd probably kick his a** anyways. But that's not my intent and it's the last thing I need after coming out of surgery. He didn't have to threaten me to get on a plane because I was coming anyways."
Article continues below advertisement
An epic war has broken out between celebrity super dads Frank Sorrentino and Michael Lohan!
Sorrentino, dad of Jersey Shore's Mike 'The Situation' Sorrentino, posted a video on his personal YouTube account on Tuesday that is definitely NSFW, but RadarOnline.com has his blow-by-blow challenge to Lohan.
"I heard Michael Lohan passed a comment on me, or about me regarding my boy and that he wants to fight me. Hey Mike, let me send you a f**kin' message so you get this f**kin' loud and clear, okay? You should be careful what you ask for because you may get it," Frank said in the video.
"I don't know who the f**k you think you're talking to or who the f**k you think you are, but I'll tell you one thing my friend...you bit off more than you can chew."
Lohan is scheduled to fight radio personality Jeremy Loper in a Celebrity Boxing match this Saturday at Ocean Manor in Ft. Lauderdale, Florida, and guess who the guest referee is? Frank Sorrentino!
"I'd love to get the two of them in the ring together, going head to head," Celebrity Boxing founder Damon Feldman told RadarOnline.com in an exclusive interview.
Article continues below advertisement
"Sorrentino is crazy, but I don't think he can beat Lohan!"
But Frank seems to think otherwise, telling Lohan in his video message that he "ain't no b**ch!"
"So if you got anything to say, f**kin' say it, f**kin' seek me out, get on a plane, what the f**k ever you wanna f**kin' do, cause I don't give a f**k for you or anybody like you. I've been with guys a long, long time and no motherf**kin' faker f**kin' wannabe motherf**ker is gonna tell me what I gotta do," Frank said.
"So with that, Mike, I don't pass no comments on your family because that's not what I do, but if you got something to say to me pal, by all means, say what the f**k you want, contact me and let me know."
One thing is for sure — Frank certainly knows how to drop the F-bomb, but can he throw down in the ring?
RELATED STORIES:
Michael Lohan Pleads Not Guilty To Domestic Violence; Jury Trial Set For July