Michael Lohan Pleads Not Guilty To Domestic Violence; Jury Trial Set For July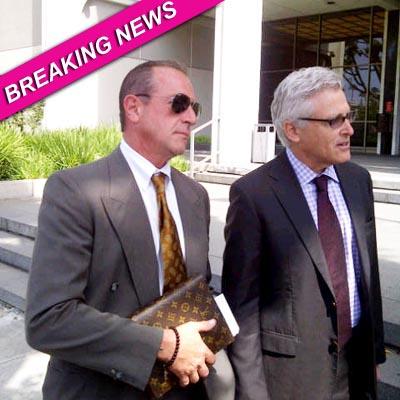 &
As RadarOnline.com reported he would, Michael Lohan pleaded not guilty Monday morning to a domestic violence charge involving his ex-girlfriend Kate Major.
Lohan, 50, entered the plea through his attorney during his arraignment before Los Angeles Superior Court Judge Marsha Revel, the same judge who presided over several hearings involving Lohan's daughter, Lindsay.
Article continues below advertisement
During the hearing, Lohan's attorney Dana Cole told Judge Revel that they want to have a jury trial to fight the charge.
The judge granted the request, and a trial date was set for July 5. Cole said he estimates it will last between 4-to-5 days.
As RadarOnline.com previously reported, Lohan is charged with one count of misdemeanor domestic violence for an incident involving Major.
During the hearing, Judge Revel keep intact a protective order that Lohan can't be within 100 yards of Major. Cole said: "What if she should contact him?" Judge Revel responded: "Hang up! If you answer the phone and it is her voice, you can say as much as 'I can't talk and hang up.'"
While Major maintains it was Lohan who injured her, Cole also said he has pictures of injuries Lohan suffered after the alleged attack and he offered to send them to the prosecution. Judge Revel said to turn everything over to the prosecution as soon as possible.
Lohan then said to Judge Revel: "This is an odd way to get a meeting with you, I requested it a year ago."
Revel responded: "You didn't need to request it. Well, we finally spoke."
Article continues below advertisement
Outside of court, Cole indicated he plans to question Major on the stand, saying: "The prosecution will need to call her to prove their case, and I will cross examine her."
When asked if there were inconsistencies in her story, Cole said: "Everybody has a particular version of what occured."
When asked about how his daughter Lindsay was doing, Lohan said: "From what I saw yesterday she's doing really, really well."