VIDEO & PHOTOS: 'Stressed-Out' Lindsay Lohan & Family Arrive In New York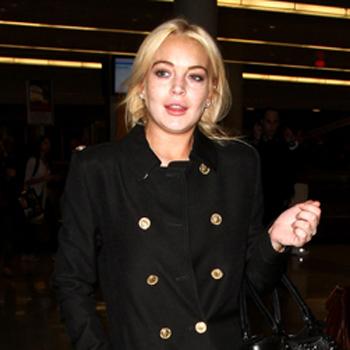 Start spreading the news -- Lindsay, Dina and Ali Lohan arrived at New York's JFK Airport Sunday night, and RadarOnline.com has the video and all the pics for you.
The famous family, all dressed in black coats, was swarmed by photographers and onlookers as they arrived at the airport, which Lindsay later said caused her great stress.
Lindsay tweeted late Sunday: "I love ny - but the paparazzi @ jfk just gave me an anxiety attack..... i was half asleep! they're such animals :( well- @ least im with my family in the end.... xo."
Article continues below advertisement
"We are all excited that the family gets to all be together in New York," Dina told RadarOnline.com exclusively Sunday, while Lindsay's father Michael, who was not on the cross-country flight ( he's currently shooting Celebrity Rehab in L.A. ) , tweeted: "Blessa Lindsay and our family on the trip to NY."
As RadarOnline.com previously reported, the embattled star, who's on probation in California in connection with her 2007 DUI, successfully asked the court for permission to leave the state.
Lindsay, 24, has been given until March 25 to take the plea deal that's on the table in connection with her felony theft charge on accusations she stole a necklace from a Venice Beach jeweler. If she turns down the deal, she'll be back in court in April in front of a new judge who will rule if there is sufficient evidence for a jury trial to proceed.
RELATED STORIES:
EXCLUSIVE: Lindsay Lohan's Decision To Take Plea Deal Is 'Complicated'